Brotherhood of the White Temple
Fellowship of the Avatar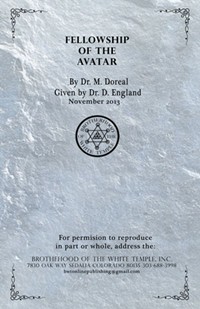 Fellowship of the Avatar
In obedience to the commands of the Avatar Harjas, the World Teacher of the Golden Age, we are calling all Sincere Students Of Truth who desire to enlist under "The Banner Of Shamballa" as workers to prepare the way for the "Lord Of The World", the Avatar Harjas, who is the incarnation of the Christ-Consciousness in this present Age.
The requirements of entering the Fellowship are simple. One must dedicate their life to the search of truth. They must spiritually work to prepare for the way of the Coming World Teacher. They must follow the simple instructions, which will be given monthly, for attunement with the Avatar. Those who earnestly and sincerely work for the Avatar, will eventually make personal contact with him and receive his personal instruction. It is not necessary to be a member of the Brotherhood. The instructions will be given freely to every sincere soul who is willing to prepare for discipleship and who will earnestly strive to bring the message of truth to those groping in darkness and work without faltering to establish the Brotherhood of man and the Christ Kingdom on earth.
For further information on the Avatar see the following Brotherhood Little Temple books : Maitreya, Lord Of The World, Mystery Teachings Of The Second Coming Of Christ, and The New Golden Age – all by Dr. Doreal.
An application for the Fellowship of the Avatar is required to be printed and mailed. A contribution of $9.00 per month plus postage is required.