Brotherhood of the White Temple
Church Lessons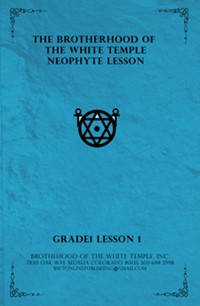 Church Neophyte and Temple Lessons
The Brotherhood of the White Temple is a religious institution. The Church work is a series of lessons on every branch of metaphysical and spiritual science, including healing. These lessons are divided into four Neophyte and twelve Temple grades. These sixteen grades require approximately four and one-half years to complete. Each grade has from twelve to twenty-seven lessons, one lesson for each week. Upon completion of this course, the student may then be invited to enter the Inner Work of the Brotherhood. In addition to the lessons, each member will receive the Ancient Wisdom Teachings and Truth Sheet/Newsletter publications at no additional cost. The Ancient Wisdom Teachings, which are supplemental to the Church work, give knowledge and information not published elsewhere. There are four lessons each month.
An application for the Church Neophyte and Temple Lessons is required to be printed and mailed for consideration. Upon being accepted for membership, you will be mailed the first lessons and a membership card. Always retain your membership card.
A contribution of $25.00 as a one-time entrance fee and $50.00 dues for the first month is required which will be returned if the application is rejected for any reason. A further contribution of $50.00 each month is required as long as one remains a member. Membership may be severed at any time by request.
Making a difference

I have searched my entire life looking for the truth of life, why we are here, and what our purpose is, only to be deceived time after time by people who call themselves masters, teachers of truth, spiritual leaders and gurus, etc., etc. It has been disappointment after disappointment. Although I am fairly new to the work in comparison to some who have been in the Brotherhood for thirty and forty years, I feel like I have finally found an organization I can trust and believe in. The Brotherhood office staff has been great. I plan to visit in the near future to meet these kind and generous folks.
– C. Cossette, Dallas, Texas